oxfords are all the rage right now. i kept seeing girls in uo and j.crew catalogs rocking them like no big deal, but hello, those looks don't always translate into real life…especially when you're not a waif with 36 inch legs. so deciding how i could pull off wearing these shoes took some time. believe me, when you live in phoenix, where people are prone to stare at anything out of the ordinary, these decisions take time…which explains why i bought a pair in august and didn't wear them until october.
chelsea crew perforated oxford in tan
they only have them in white now (gross), but these are a similar alternative. they were only $68. who knows if we'll all be wearing these next fall, so there's really no need to splurge.  i also love these steve madden langleys in  grey suede, but it's way too hot where i currently live to be wearing suede right now.
steve madden langley in grey suede
i think the trick with oxfords is to go super feminine with the other components of your outfit. i mean, the androgynous look can work too, but that gets old…you don't want to start looking like every other guy in your office. the other week, i wore mine with eloise's distant chirping chemise from anthro (no one has to know its sleepwear) and a cardigan.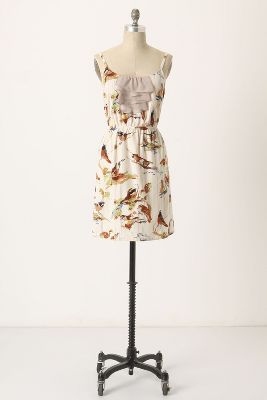 eloise distant chirping chemise
that's as "autumn" as i can get in arizona without overheating. and then earlier this week, i wore my oxfords again with cropped skinnies (actually, a rolled up boyfriend trouser might be even cuter) and moulinette souers' beneath the surface shell, also from anthro.
moulinette souers beneath the surface shell
i LOVE this print. kinda reminds me of a bad couch from the 80s. actually, i think i had a valence with a similar print when i was growing up. regardless, it's a good juxtaposition for what is, essentially, a men's dress shoe. you can't really go any more feminine than floral with ruffles. and by the way, i really think this is a shirt that is flattering on any shape or age.
the great thing about oxfords is that you can go classic, but there are also so many varieties out there. i'm loving the olive-colored ones, and even the two toned…but no white, please.  they remind me too much of topsiders. plus, this is a fall shoe.
and i'm prone to think that the right person can pull off the oxford pump. (i must confess, i did buy a very cheap pair for halloween 2 years ago when i dressed as blair waldorf. but it's no longer 2008, so we can all be a little more adventurous.)